Pure Leasing is a new business and wanted to enhance it's brand with a website that truly represents its brand. As a new business, they knew they needed a dynamic website partner that not only was able to help them create a website that brands their business (in a way that would attract their target market and be the online representation for their business) but to also have a website partner that could help them grow along their business journey and be on hand to support them to achieve their goals. Pure Leasing is a car leasing company delivering a personal touch to car leasing, with an aim to save their customers time and money, promising to make them smile.
Pure Leasing is a fast-growing business, growing from a start-up into an established business, they wanted to have an online presence that could reflect this. They wanted a website they could be proud of that would help enhance their brand when promoting their business.
After sharing a coffee with Zaf in his office, we understood the vision of what Zaf was building at Pure Leasing and how we could form a partnership to help grow Pure Leasing through website enhancements.
After completing our agreement and finalising terms, we arranged a call to catch up with Zaf and create the project brief, we discussed some of the websites that Zaf liked the look and feel of and would like to take inspiration from for his website. We discussed his business goals and his target market and what would be the ideal user journey for his target user to take when on his website and the desired call to actions.
From this, we built the homepage layout in wireframe and created a detailed brief with information on inspirations, brand colours, font, and images available. This was then passed on to the developers to create 5 homepage design variations.
From the 5 designs that the designer had created, we were able to take aspects from each design that we liked and create the perfect homepage design. Once we had finalised the homepage design we were able to turn our attention to the internal pages of the website.
We followed the same process as the homepage, building wireframes for all the internal pages of the website, this time we knew the flow and the design aspects that we wanted to use for the website. We built all the webpages into the sitemap allowing us to visualise the website.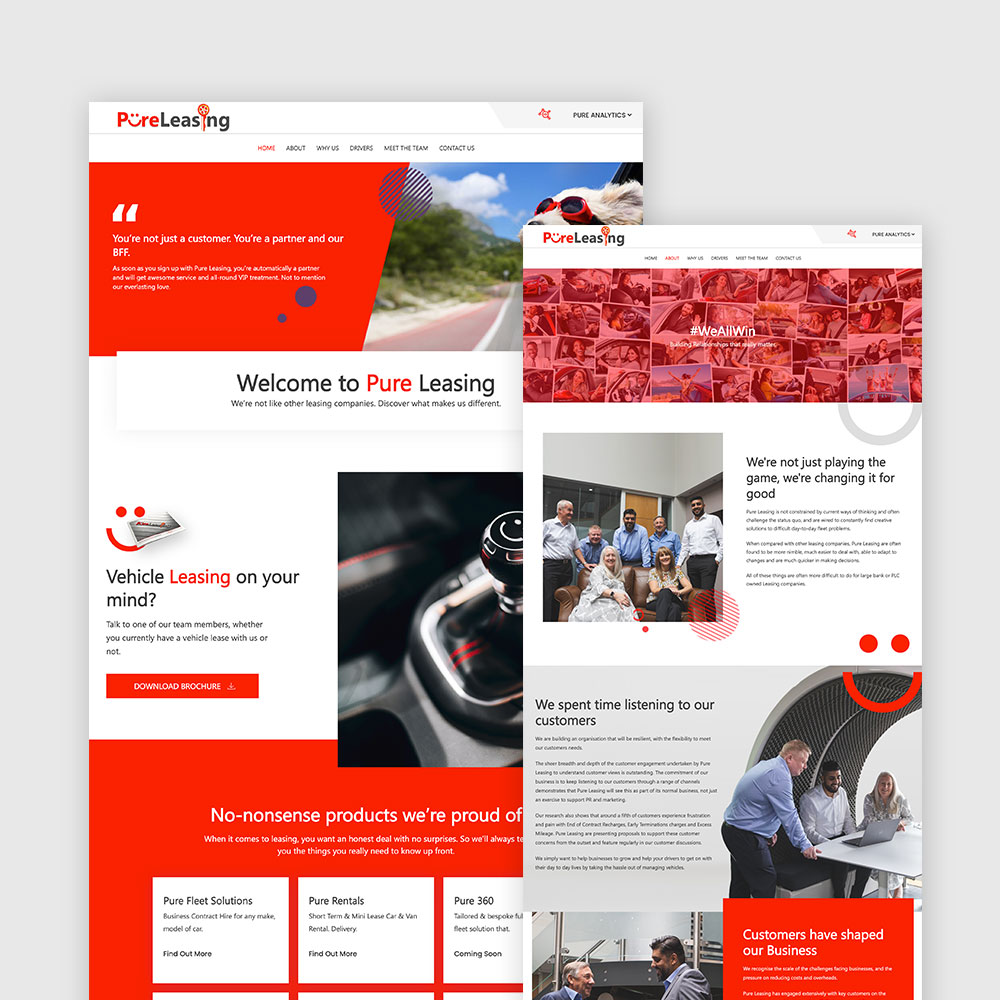 Previously, Pure Leasing created their website but were unable to make the required amends with ease, this compounded into their previous website becoming outdated and not representing the company as they had intended.
Pure Leasing had outgrown their previous website and become a more established business. Now they have an up-to-date website that represents their business appropriately. We have formed a fantastic working relationship with Pure Leasing and continue to provide support for their website, being on hand for any changes or updates allows the team at Pure Leasing to focus on growing their business.